Now here is an example of how Linux Mint continues to lead the way in usability innovations: Integrated smart Start Menu search engines! Coming soon to a Linux Mint PC near you will be the ability to use smart logic to help you find, install, and learn about applications within Mint Menu, whether they are installed or not. Yes, the application gets installed right from within Mint Menu, without even launching any external program. Simply Brilliant.
Hovering your mouse over the package names and you can also see their summary and their description. Finally, popular external information sources Wikipedia and Google make themselves available right within the Menu as well. Nice touch. Finally menus go smart.
Lastly, a really slick extended resources icon makes itself available to get even more information, even including connecting to other Mint Community members and hardware / software reviews and tutorials. The ostensibly named "little button" is described this way:
We also added a little button, next to the search entry which pops up an extended search menu. From this menu you can find software, tutorials, hardware, ideas and even Linux Mint users. So, if you're looking for a printer that is compatible with Mint 9, or you've got trouble setting up something on your Vaio laptop, just type "printer" or "sony vaio" and click on "Find Hardware". If you're looking for information on how to use the IRC, simply type "irc" and press "Find Tutorials"… The Community website is growing every day, with information written for and by Linux Mint users, and its ideas, users, hardware devices, software reviews and tutorials are now just a click away.
Like all Mint Tools, the Menu is available to freely be used by others, provided proper credit is given. Needless to say, this is something we would love to see in KDE's Kickoff Menu. Volunteers welcome, of course. Details of how to get the GTK version for testing are over at the
Linux Mint Blog
.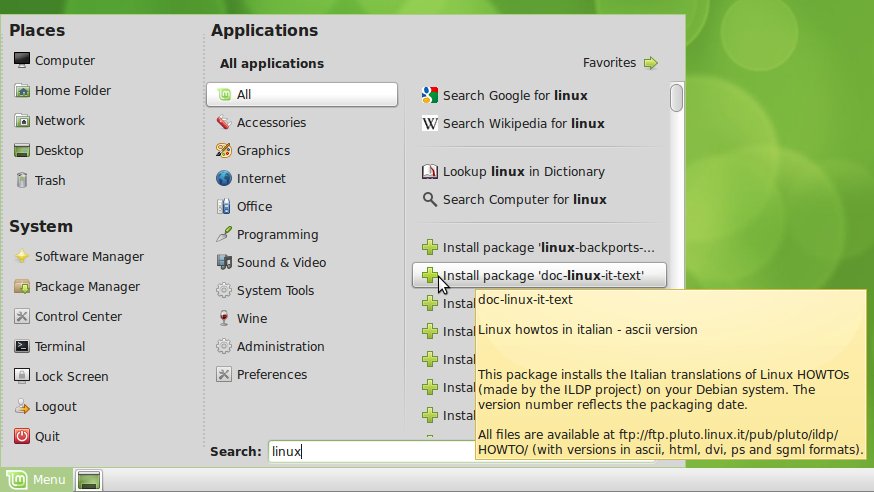 =-=-=-=-=
Powered by Blogilo
=-=-=-=-=